TAPA Programs run in Turkiye
Turkiye has been particularly active, over many years, with a range of different TA proficiency awards – some of which were invented there!
They began in 2013 when Elif Akar ran a scheme for children and young people (TAPACY). In the same year, Gunay Erkilic ran a scheme for caregivers and parents TAPACP). In 2014, Elif ran a scheme for Teachers and educators (TAPATE), Soley Akten ran one focused on professional development for managers working within Fiat, and Hülya Üstel ran one for coaches. Since then programmes have been run every year, and in 2017 Advanced Awards were also introduced.
The second Transactional Analysis Personal Development Awards were given to 12 participants by Soley Sezgin Akten on December 18, 2014 in Bursa, Turkiye.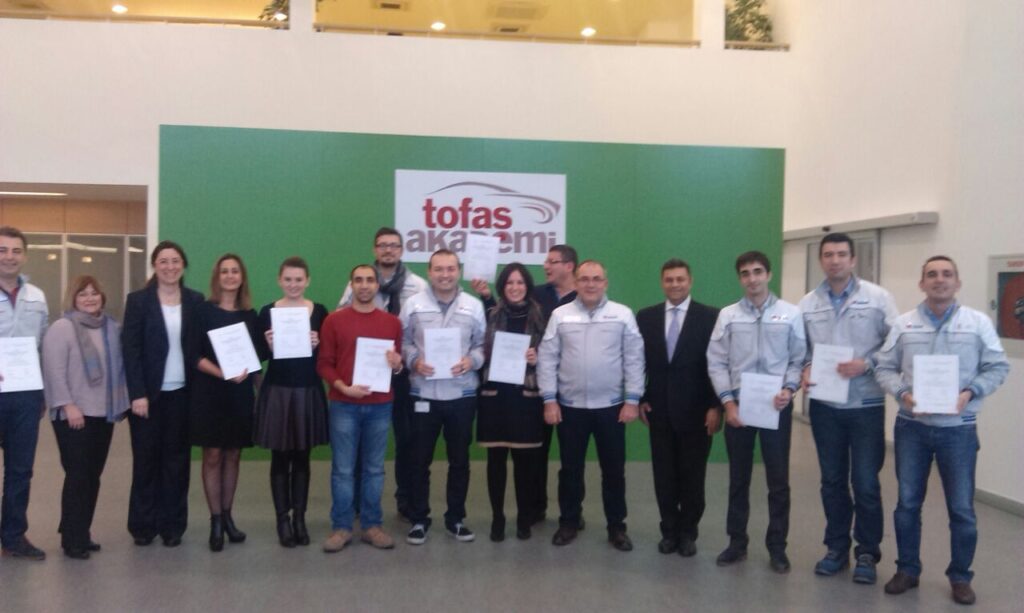 Based on teaching provided by Soley Sezgin Akten, after four days of TA workshops in July 2014 the participants, who were all Tofaş Academy trainers, had each produced a portfolio of evidence of their personal application of TA concepts.  After these had been assessed by Hülya Üstel, all participants were presented with their TA Personal Development Award certificates at a ceremony in December 2014.  Julie Hay, the TAPDA Director, participated in the ceremony through Skype.
Soley and Hülya are completing their training in TA, with the intention of attaining Practitioner status via the professional certification provided by ICDTA, as well as CTA in due course.  Both are experienced organisational trainers/consultants who manage their own companies.
​Soley tells us that the Turkish automotive company Tofaş, which has equal shareholders as Koç Holding and FCA- Fiat Chrysler Automobiles, is one of the three world-wide strategic manufacturing centers of Fiat Auto. Tofaş represents the greatest value and power in the Turkish automotive sector.
All of the training and development activities within Tofaş is conducted by Tofaş Academy which is founded with the purpose of managing different learning and development instruments as integrated by gathering them under one umbrella in a way that will support company's vision and include all of the value chain.
It was very special for me to work developmental transactional analysis with Tofaş Academy trainers. All together we added a chain of TA in company values. We covered basic TA concepts in 4 days of workshops and after it, they have well prepared their learning portfolios.
During the TA workshops, Fiat Academy trainers, they discussed their teaching and working styles with TA concepts and they got deep understanding of their impact in the learning environment that they create within their technical and nontechnical classrooms.
I want to thank Julie Hay for her support, to Hülya Üstel, who assessed the portfolios, and to Tofaş Academy management for initiating and funding the programme.
I am glad to work on TA with Tofaş Academy trainers and I am proud that, they are the first group of trainers in automotive sector in Turkey with TAPDA certification.
Comments from the participants:
Melike Dinçer Saygı, Leadership and Behavioural Development Specialist, Tofaş Academy
First of all, TA training has increased my personal awareness. I understand many of my behaviours, I did unconsciously. This especially helped me to manage my relations and conflicted relationships. Now I can understand people better and manage my relations with my colleagues better and do empathy more easily.
Orhan Özdemir, After Sales Technical Development Specialist, Tofaş Academy
After the TA Analysis Training, I had opportunities to understand and to analyse, not only the technicians who are trained by us but also my family and the people in my social life.
Muhammed Göktürk Doğan, Commercial and Behavioural Development Specialist, Tofaş Academy
First of all, I have you to thank for this great training.  I learned well, when two or more students or people meet, their ego states also interact. As a third party I could see now what is happening between them and participate in their dialogue and became intrigued with my newfound ability to see how I was interacting with the people around me. I can pay attention anymore to tone of voice, body posture, gestures, choice of words and emotional state. As I view the recent months of my life, I perceive repetitive behavioural patterns developing which concern me.  And I learned to maximize my chances of making new connections and solving problems by well using my knowledge of ego states in a lesson or meeting situation.

Transactional analysis that I got, in all of its aspects, will certainly continue to serve a useful purpose in shaping my personal and working future as a result.
Elif İldeniz, Leadership and Behavioural Development Manager, TOFAŞ Academy
I believe that everything starts with myself. I sometimes forget it in a life-time routine, but every time I take an inner course, I listen to myself again, find a new "Ich", and create a new story about myself.

TA was a little bit different from the other trainings. It has a deeper and easier philosophy in it, and made me think about myself more. When I took the course, I went to my childhood, watched my family videos that are on my mind, and realized my injunctions which are "Don't be close" and "Don't be a child".

I know that these injunctions are limiting me to have my best, and with this awareness I have the power to change my life script.  Besides, I realized my little professor, talking and working for me. Actually she is very nice and intelligent, but too little to take decisions for me.  Now, it is time to write my new stories, and find my natural child in her cosy place.
Nuray Nurdağ, Leadership and Behavioural Development Specialist,  TOFAŞ Academy
When I have learned Transactional analysis I began to observe my personality, my feelings and decisions with different way. I think.  I took an important step at my self-awareness and my development journey wit TA.

First of all I began to recognize the source of my feelings and behaviours with TA points of view. I began to observe and understand myself more clearly. So, I have been growing up and changing with TA approach. At the same time I began to observe my partners, trainee's behaviour and try to understand them.

I feel myself more comfortable at my communication. Because I feel I'm ok and you are OK. I can see ago states, drama triangles and games at my working area and I began to control communication conflicts.  So my communication quality getting better and better.

Transactional analysis help me to establish clear communication at my courses and working area. I can give more effective consultancy. I can manage myself and my communication more successfully. I feel myself more happy and successful. Also I am trying to improve the communication quality of my trainee's and teammates.

Thank you very much Dear Soley, Elif, Mücahit and my team mates.
Burak Karaoğlan, Commercial and Behavioural Development Specialist, Tofaş Academy
I found an opportunity to assess relationships in the workplace. I myself helped me recognize the better. Increased communication with participants in the training and support for building stronger relationships.
Yaşar Vatansever, After Sales Technical Development Specialist,  Tofaş Academy
After the TA study, my standpoint for relations has been changed dramatically for social and also professional work life. In my relations, i started observing child, adult, parental roles clearly.

After all, during communication with the other  people i can perform adult role in an easier way regarding my behaviours and manners.  I am trying to adopt TA processes for all my life.
TAPDA Ceremony Speech by Julie Hay TSTA OPE
The following is the text of Julie's speech online at the Award ceremony:
Hello.  I'm Julie Hay, president of the International Centre for Developmental Transactional Analysis and of the Institute of Developmental Transactional Analysis.  Both are based in the UK but operate various proficiency awards and qualifications worldwide, so you are now part of a process that already includes several countries in Eastern and Western Europe, South Africa and China.

The ICDTA, which is formed of a number of internationally accredited TA trainers and supervisors, operates a range of qualifications that are particularly appropriate for those within organisations, for managers and employees and particularly for trainers and consultants.  The IDTA concentrates more on proficiency awards within the context of schools, such as for children and their parents and caregivers.

So today your awards are being made under the auspices of the ICDTA and you are joining a large international community of people who hold TA qualifications of one form or another, and I am delighted to be able to use technology to share this moment with you.

I am also particularly pleased to be joining you because I started my own training career in an engineering company and have very fond memories of it.  I got the chance to mix power press and fork lift safety training with management training, and for 6 months I also ran the apprentice training school.  I later became a trainer in British Airways, where I added train the trainer – for trainers across the airline departments, including management and interpersonal skills trainers, engineering and flight operations, and cabin crew and pilot instructors.  It was in British Airways that I discovered transactional analysis – and realised how useful it was – for interpersonal skills, leadership, teamwork – and of course for trainer training.

It was also British Airways that made it feasible for me to learn TA properly and get my first TA qualification, because there were few organisational TA trainers in those days so I needed regular flights to go to where the trainers were.  Eventually I went freelance and continued my TA training, which is how I came to be teaching Soley and she came to be teaching you.  In the meantime. It has taken me around the world, including several trips to Turkey, with the most recent being only a few weeks ago.

I hope that you too will spread the word, both to other trainers and to your participants.  I want to emphasise to you that there are no limits to these – for example, I have taught TA to managers and shop stewards – together – in Rolls Royce Motors, to chief executives in India, to filing clerks in Bosch, to warders and inmates in high security prisons – and through a team of presenters to 60000 employees of a major bank.  So I urge you to go ahead and use it wherever people need to understand the psychology of human behaviour – and where the organisation gets the benefits when participants realise how it helps them with their relationships outside work as well.

Finally, in addition to thanking all of you for doing the work needed to take part in the scheme, I want to thank Soley for making it all happen, Hülya Üstel, who you have not met but who assessed the portfolios on my behalf, to your training manager Mücahit Korkut for initiating the programme, and of course the management of FIAT for supporting, and funding, the initiative.

I congratulate you on your achievement, and applaud the impact you will have made, and will continue to make, in the lives of your participants – and hope that I will have further contact with those of you who get as addicted to TA as I and Soley have done – and therefore want to learn even more.
Contacts
Soley Sezgin Akten
Email:
Hülya Üstel
Hülya is a lifelong learner and offers training programs for coaches and companies as well as private therapy sessions online. For more information, please visit https://transaksiyonelanaliz.org/ and http://hulyaustel.com/.
She can be contacted at: [email protected].
Click any of the photos below to see more detail about each programme